Rev. George R Carey
Pastor
Rev George R Carey was installed as pastor of KPC in February of 2016. Rev Carey and his wife, Nita arrived in Kingman immediately following seven years of ministry in overseas mission work and more than 35 years of pastoral and missionary ministry, including 4 years focused on Unreached People Groups at the U.S. Center For World Mission in Pasadena, CA.
George was ordained in the Cumberland Presbyterian denomination in 1979 and joined the Evangelical Presbyterian (EPC) denomination in 1990. He and Nita were born and raised in Tennessee where George was graduated from Memphis State University and Memphis Theological Seminary (Presbyterian).
From 2009 to 2016, George served as Director of World Outreach for the EPC at the denominational headquarters located in Livonia, MI and as Director of Church Development for Project Mercy, a humanitarian/evangelism ministry to poor rural Muslim farmers in Ethiopia, headquartered in Fort Wayne, IN.
George's first love is Christ. Nita is his first human love. And preaching the Gospel is second to Christ and to Nita. George plays guitar and sings and writes Gospel songs. He enjoys following political developments, which likely stems from his background in broadcast and newspaper journalism.
George loves to focus believers on the Biblical mandate to reach the lost and hurting "at the end of the street and the end of the earth."
Rev. Grif Vautier
Pastor Emeritus
Rev Grif Vautier, retired pastor of KPC is the Pastor Emeritus of KPC. He received this honorary title in May 2016. Pastor Grif and his wife Holly (also an ordained pastor) served KPC from the year 2000 until 2011. They are both very active in the ongoing ministries of our church family. Grif preaches in the pastor's absence and helps with other pastoral ministries when asked, as well as heading up prayer meetings and a Bible study. Grif is also coordinator of the Kingman Evangelical Ministry Association of churches and supply preaches for other congregations when asked. Holly plays the flute in the church's contemporary band, is active in the church's prayer ministry, and helps teach a Bible class. They are natives of the East coast.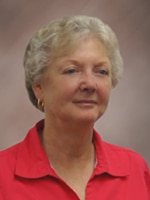 Patty Swader
Church Secretary
Patty Swader has lived in Arizona for more than 25 years and moved to the Kingman area in 2004. Patty enjoys interacting with people and likes to stay busy which makes the position of secretary at KPC a perfect blend for her lifestyle. After all, who better to spend your days with than other Christians. Patty has one daughter and four grandchildren who keep her busy when their schedules permit.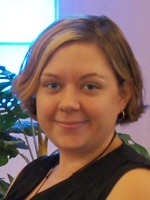 Chloe Roberts
Sound Booth Tech
Hi I'm Chloe Roberts and I fill the position of Sound Booth Tech. My job is to synchronize the sound and visual with each Service. I'm 22 and hope to become a Chef. I love KPC because of the family feeling. No one is a stranger here. Everyone is welcome with open arms. I was born in Kingman and went to High School here.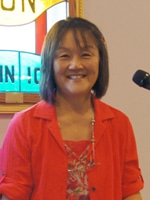 Patty Young
Worship Music Leader
Scott and I married in 1990, and moved to Kingman in 2003.  Sports and Music have always played a large part in our relationship, and still do! Praise band and Choir are inspiring and satisfying, and we both have lots of fun making music for the Church.  I also get real enjoyment from chime choir – it was difficult at first but it's a lot of fun practicing with the other chimers and coordinating to get the songs right. We hope that the music the Praise Band performs for the Church is inspiring and fun, that we reinforce and enhance our Pastor's sermons on God's word and help the Holy Spirit to enter all our hearts.  We love making music for ourselves and for anyone who wants to listen!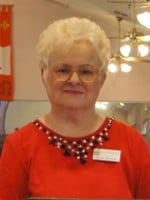 Linda L. Stadler
Choir Director/Flute and Chime Director/ CEF
I was born and raised outside of Buffalo, NY. I married the boy next door 48 years ago this July. Ray and I have 3 married sons and 6 grandchildren. After traveling while Ray played pro baseball, we settled in Phoenix for over 30 years. In 1998 Ray accepted a management position with Mo. Co. Public Works and we moved to Kingman. First, I found my new church home at KPC. Then I went to work as Business Mgr. of the Kingman Daily Miner, the local newspaper. I retired after 8 years to take care of my elderly mother. Throughout this time I have been involved at KPC in two main areas, Christian Education and music. I've been teaching Sunday School and Jr. Church and/or singing in the Choir from the very beginning. Three years ago I was honored to take over as Choir Director and Director of the newly formed Flute and Chime Choir. Just recently I have started a Children's Handbell Choir. For the past 5 years our church has sponsored the Child Evangelism Fellowship's "Good News" Club at our neighborhood elementary school. It's a weekly after school Christian Program throughout the school year. I have served as Administrative Leader/Teacher and proudly say we have brought the "Good News" of Salvation to well over 200 children!
Deacons
Suzanne Christman, Maxine Nesmith, Vickie Conway, Ingrid Purder, Ann Flora, Bob Tyler, Mary Richards, Johnny Mather.
Elders
Richard Christman, Don Richards, Chris Beard, Joan Johns (clerk), Linda Stadler, Marjorie Hardcastle, Doug Payne.